Steps for setting up a Remote Access SSL VPN
- Portal Configuration -
1. Log in to your mdsmanager.com portal with your partner account.

2. Select the Subscription that you want to enable SSL VPN for.

3. Click on the "Remote Access" page, turn on the "SSL VPN Users."




4. Click "Add" to add users. Enter the desired Username and Password, and save your changes by hitting "create user".
To enable Two-Factor Authentication enter the Phone Number.
*** These cannot be tied back to Active Directory, LDAP, or other service at this time. Please make them specific, possibly matching email addresses, etc. for that office/site.

5. Take note of the Server/Remote Gateway and Port values for step 9.
Custom-DNS for SSL-VPN
How to:
Go to the "Remote Access" section and then go to "SSL-VPN" and click the slider for "Custom DNS"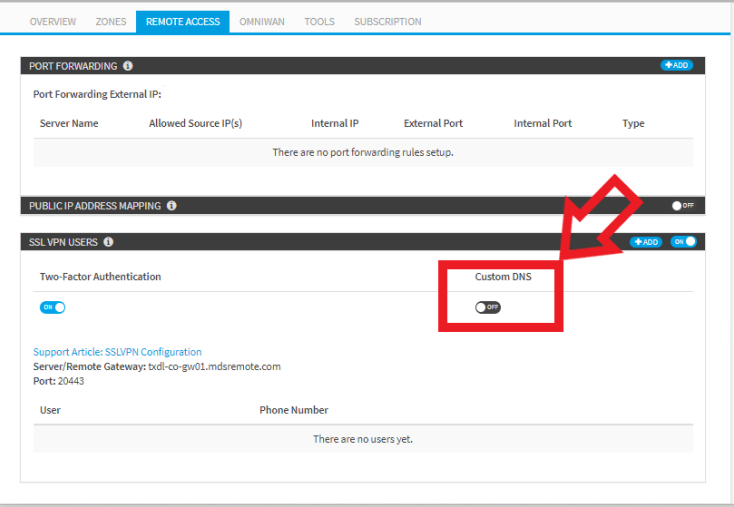 From there, you can fill in the specific DNS servers you'd like, as well as DNS-Suffix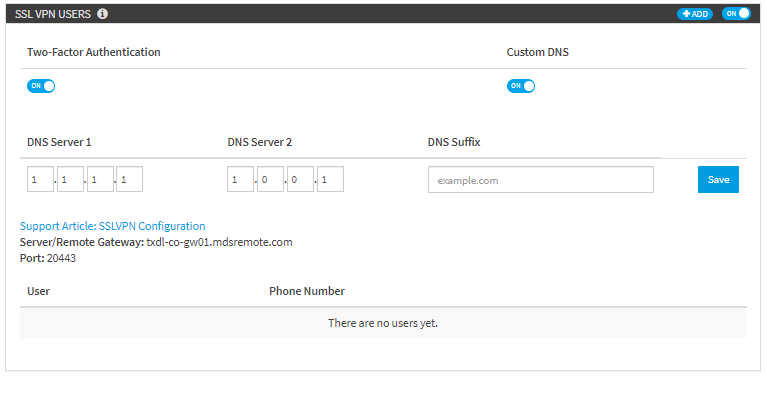 Client Side configuration
** There is also a Windows install through the store (separate install and instructions): How to use Native Microsoft VPN controls for the OmniNet SSL VPN

6. Download and install the appropriate FortiClient version from https://forticlient.com/downloads -specifically the "FortiClient VPN" only download.
(Click here for previous versions and offline installers)

7. Run the setup wizard to install the FortiClient in your machine (Note: only VPN components are needed).

8. Launch the FortiClient, select "Add VPN."

9. Fill in:
- Connection Name: As desired
- Description: As desired
- Remote Gateway: Insert the FQDN of the mdsremote URL of the subscription you want to connect to **FROM STEP 5.**
- Customize port: Check the box for Customize port, and set the port to "20443" (From Step 5).

10. Apply the settings and then launch that connection. Log in using one of the username and password combinations from step 4.

11. Connect and test.
___________________________________________________________________________________________________________

OmniNet support can help with either of the steps above if you have any trouble connecting.
Feel free to let us know, and we'll be more than glad to assist.